Business intelligence
Business intelligence is a powerful reporting and data analysis software. Helping in decision-making, its flexibility allows it to adapt to medium or large businesses with one or more brands. This analysis and reporting tool can be used either in Excel or via the Web.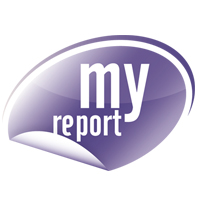 Today, no economic activity can do without real-time reporting on its situation. Extreme competition and precise choices definitely require the use of a solution such as My Report.
My report offers ease of use and unrivalled performance, accessible to all with an excellent price/quality ratio.
It allows you to:
Relieve IT departments from successive requests to extract, manipulate or update data.
Empower merchants in the creation of analysis reports and graphs, used to manage activities
Improve efficiency and reactivity by reducing the time between the manifestation of a need and the availability of data, for all areas of your activity: financial management, commercial management, accounting, management, HR, etc.
It allows you to use in Excel® or via the web, data from your internal applications (ERP, accounting, payroll, sales management, CRM,...) and/or your flat files (XLS, CSV, TXT), to create, update, and automatically distribute your dashboards.

 Guaranteed security

My report offers different access rights to the tool via a clear and ergonomic profile management interface, making it a collaborative and sharing tool.
Your extended and customized dashboards 

My report centralizes multiple data sources in a synthetic way. Filters positioned on certain fields reduce the data to your strict search. But you can collect heterogeneous data and improve the quality of your analyses.
Web and Mobile Accessibility 

Wherever you are, My report is accessible on your browser through your usual web connection, on a tablet or your smart phone.
Professional expertise 

Constance Gustke in a recent article for CNBC.com explained how the American clothing brand Macy's had taken a serious look at the analysis of its data. The group's objective was to make the best use of information relating to its customers by moving from Excel to Big Data Analytics.
Customer knowledge 

Under the pressure of online sales, store chains must react in two ways : the improvement of customer knowledge and real-time information processing.

The ultimate goal is to be able to cross-reference information relating to :

customers' profile (geographical location, average basket, purchasing power, habits, etc.);
social networks (market trends);
climatic and seasonal events that inevitably have an impact on consumer behaviour.

The project is ongoing and is of primary interest to companies of a size large enough to invest time and money and make the analysis of their data a competitive advantage.
Better manage your shop 

Without getting lost in significant investments, any shop manager must have a "shop management tool". The tool must be simple enough to be used by store staff while being able to provide key indicators that give visibility on store activity and therefore the necessary adjustments (restocking, product performance, sales performance, average basket,... etc.). 

JLR has chosen My Report to allow users to go beyond the reporting tables included in the software we distribute. A real tool for managing the shop, it has the dual advantage of functional and pricing accessibility.

---